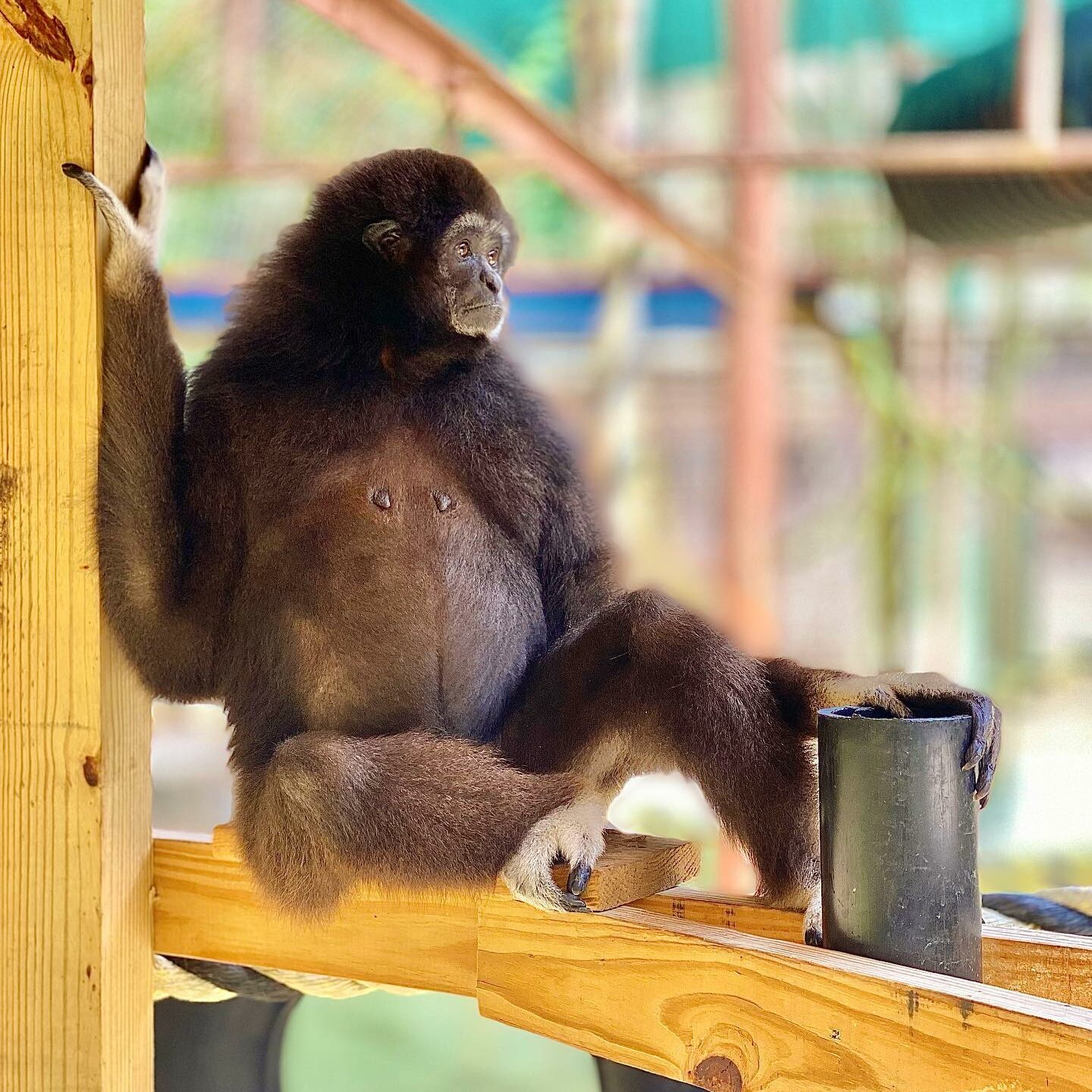 Favorite Food: She's a good eater overall, but she'll inhale those grape tomatoes.
Favorite Activity: Activity! She is a very active gibbon and makes good use of all the space in her outdoor enclosure.
Mia started out her life as a zoo gibbon. She was born at Reid Park Zoo in Tucson, Arizona, then moved to another zoo in California before ending up at Jackson Zoo, located in Mississippi, in 2010. There she was paired with a gentle gibbon by the name of Cookie Man.
The two were very compatible and pair-bonded nicely. They even produced several offspring together. Unfortunately, however, Mia turned out not to have any mothering skills. Her infants had to be pulled for hand-rearing, and so she was eventually placed on birth control.
When her mate died unexpectedly of heart disease in June of 2014, the zoo thought that perhaps it was time for Mia to look into an early retirement from her zoo career. The coordinator of the Gibbon Species Survival Plan (which oversees the captive population of gibbons who live at facilities belonging to the Association of Zoos and Aquariums) knew about IPPL and knew we were looking for additional females to match with any one of our four unpaired males. He knew that we do not breed our little apes, so he suggested that IPPL would make a perfect forever home for her.
She arrived at the IPPL sanctuary on March 13, 2015, and quickly settled in. She has turned out to be a very acrobatic gibbon and makes good use of the entire space in her large outdoor enclosure; she swings and climbs around constantly. In fact, she's so active she's one of our most difficult gibbons to photograph: she doesn't like to sit still for long!
Mia remained single until 2020 when she was introduced to Peppy whose mate Helen had died. These two hit it off and are now a happy couple!