An amazing primate stamp collection
IPPL Blog | July 19, 2013
A treasure trove of stamps—all consisting of primate images—has come to rest at IPPL's Headquarters in Summerville. IPPL's longtime supporter David Rand had painstakingly pulled together this unique assemblage. Sadly, David passed away late last year. After his death, David's brother Laury kindly contacted IPPL to see if would like to have David's primate stamp collection. What we received was beyond our wildest expectations.
I had met David in Bangkok in 1975, at a party for Thai university students who had worked on Bangkok Airport studying the wildlife traffic. David was a nice, friendly young man, a travel guide specializing in taking visitors to remote areas. From his youth, he had apparently developed a passion for stamp collecting, focusing on primates. He and I kept in touch over the years, but I had no idea about this particular enthusiasm of his!
The collection—six huge, well-organized albums plus an armload of yet-to-be-sorted prizes—provides lessons in nature, geography, and even history. Because there are millions of stamp collectors around the world, many countries earn income from the production of stamps to sell to them. I'd like to show you all of David's stamps, but here is a sample for you to enjoy:
Malawi in southern Africa has native primates, but also produced a sheet of primate stamps that included species not native to Malawi, such as an orangutan from Indonesia, langurs from South Asia, and a spider monkey from Central/South America.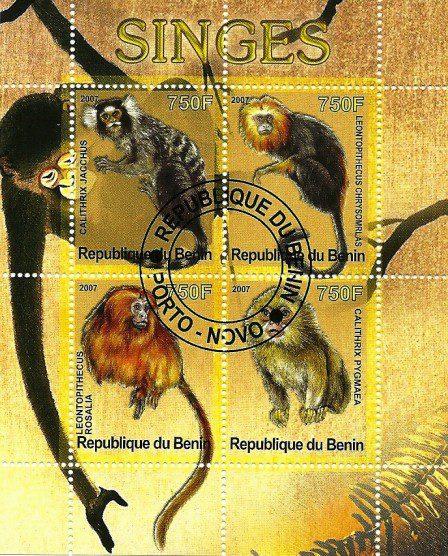 The nation of Benin in West Africa issued a set of stamps of South American marmosets and tamarins.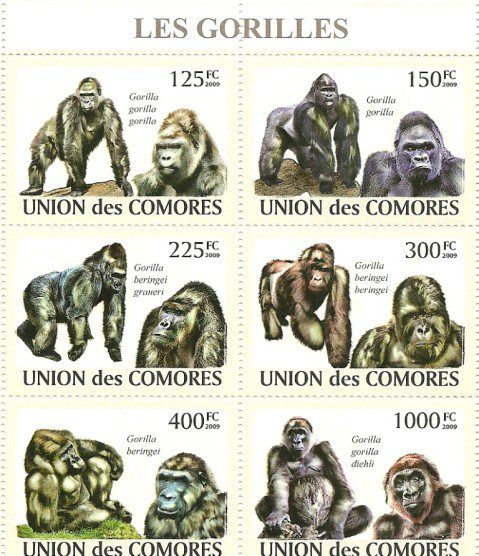 Many nations have issued gorilla stamps, not just those where gorillas live. For example, the Comoro Islands in the Indian Ocean just north of Madagascar issued a striking set of gorilla postage stamps.
There are also many gibbon stamps. These examples are from Poland and Singapore. Both were issued in 1972.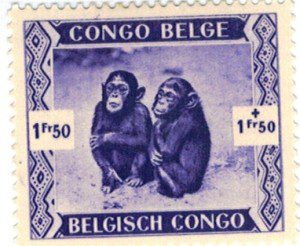 Many countries change their names over history. These two postage stamps illustrate this. The Belgian Congo issued a bonobo stamp. Later the same stamp was reissued within a new stamp, this time under the name "Republique du Zaire." Today the nation is known as the "Democratic Republic of Congo."
North Borneo (which had roughly the borders of what is now Sabah) issued a proboscis monkey stamp. David was able to obtain some defective stamps, printed minus the monkey. His collection also contained the same stamp, correctly printed, but used during the Japanese occupation of North Borneo during World War II. Both stamps date from 1939.
Another defective stamp was obtained by David from the famous British-based stamp vending company Stanley Gibbons, where the world's stamp collectors go in search of rare stamps. The company's founder was born in 1840, the same year the world's first postage stamp was issued. Here are two slow loris stamps side by side, but in one the color magenta is missing. The stamps were issued by the nation of Ceylon, which became known as Sri Lanka when the nation became independent in 1948.
Many stamp collectors, like David, liked to get "first day covers." They obtain stamps and get them stamped by the post office on the date of issue. Take a look at this lovely example from the nation of Bhutan which shows Bhutan's spectacular golden langurs.
 We seldom see aerogrammes these days. Aerogrammes are long tri-fold sheets of lightweight paper with the postage pre-stamped. This delightful one is from Malaysia. 
 Have you ever heard of the Ferr Islands? I hadn't! They are fictitious and "created" just to produce and sell stamps!
We have only begun to review this magnificent collection of stamps, which is now among IPPL's most prized possessions. Many thanks to David and Laury for this wonderful gift.
 (And thanks to Tina McCoy for her help keeping the stamps in order!)