IPPL's sanctuary residents has always included some Asian short-clawed otters. When living in Thailand, our founder, Shirley McGreal, fell in love with this petite, playful species and IPPL taken in a number of retired otters over the years. Currently IPPL has six resident otters. Otter couples have their own pond, hay-filled house, and fenced-in wooded yard.
All the otters like to play in their small water tubs and are highly curious. They all love mealworms, although some of them will play with the mealworm for a while before actually eating them. They all get hard-boiled eggs a couple times a week, but always squish off the white part because they only seem to like the yolks. Their favorite lunch consists of chicken hearts and gizzards, and they all like to make a big mess inside their houses!
They are adorable, lively little animals who keep our gibbons entertained as they watch the otters antics.
OTIS
(Male | Born: 7/27/17)
BOO
(Female | Born: 1/20/14)
Otis is our youngest otter; he loves to climb on things and dig. He is very curious about his surroundings, likes to drink water from his car hood (toddler toy in his enclosure) and is very enthusiastic about meeting whichever staff member that comes out to feed him a meal.
Boo is always ready to go where Otis goes...they like to play and wrestle in their pond on a hot day. Boo and Otis also like to find and play with rocks and are very generous about sharing them with us.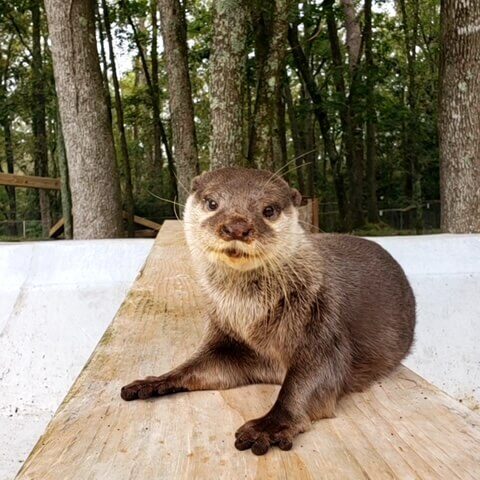 Introducing Martini, our newest and (now youngest) Asian short clawed otter. Marty came to us from Oklahoma, and we are thrilled to have him with us! He quickly adapted to his new home, and although it took him a while to explore his new pond, he eventually decided to take the plunge and seems to enjoy his early evening swims.
PICKLES
(Female | Born: 8/20/10)
TURNIP
(Male | Born: 5/21/11)
Pickles is most certainly our loudest otter...she is very vocal and possessive about her meals. She likes to sleep on her pond slide with Turnip, and they are both very curious about anything new that we need to bring into the enclosure. When attempting to plant some small new shrubs in their enclosure, Pickles and Turnip decided that digging the shrubs back up was a wonderful enrichment project.