Gibbon art DIY for World Environment Day
Today is World Environment Day, designated by the United Nations as a day of outreach, a "people's day" of "doing something positive for the environment." This year's theme is "Seven Billion Dreams. One Planet. Consume with Care."
Well, have you ever dreamed about getting in touch with the natural world through art?
That's what Maui artist and animal lover (and long-time IPPL supporter) Barbara Steinberg does every day. Not only is she a talented watercolorist herself, she is also a dedicated instructor who transmits her love twin loves—of art and nature—to children through her painting classes.
"I have been teaching Animal Kindness Club art classes over 10 years," Barbara tells us. Her young students learn to paint a variety of flora and fauna, including some of the rare species found on Maui. "They learn this pledge: 'I promise to be kind to animals (as well as people) and to speak and act in defense of all helpless living creatures.' They learn about conservation, habitats, and endangered species." Her philosophy is to "guide children to focus and build their dream day by day."
Primates are also frequent subjects of her students' artistic efforts. Chimps are a favorite, but her talented youngsters also learn to paint the gibbons—specifically, the IPPL gibbons, as seen in these portraits of Courtney, Elizabeth, and Palu-Palu (who, fittingly, came to IPPL from Maui zoo; his name means "softly-softly in Hawaiian). One artist even portrayed Shirley with the gibbons! "We show videos from IPPL, too, when painting gibbons," Barbara adds.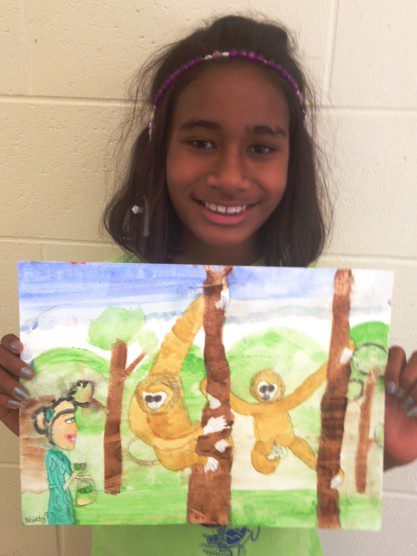 This year has been named the Year of the Gibbon, to raise awareness about this often-overlooked ape. Fittingly, Barbara and her students just finished a unit on gibbons, and she sent along these canvasses, which her students created just last week: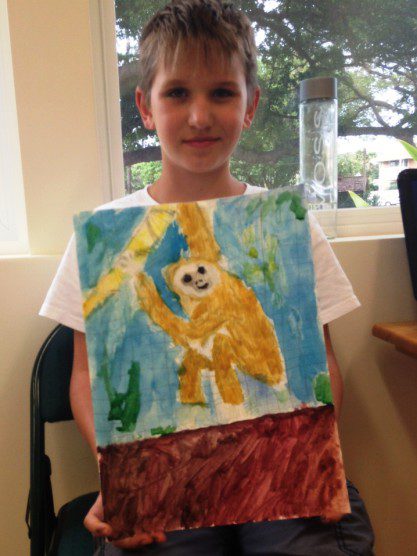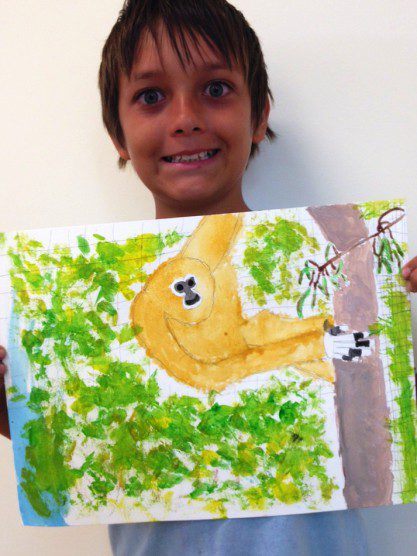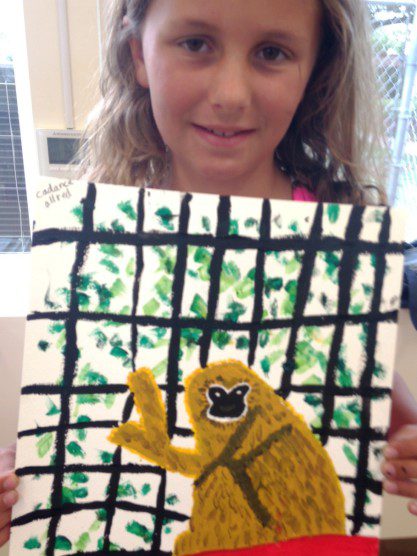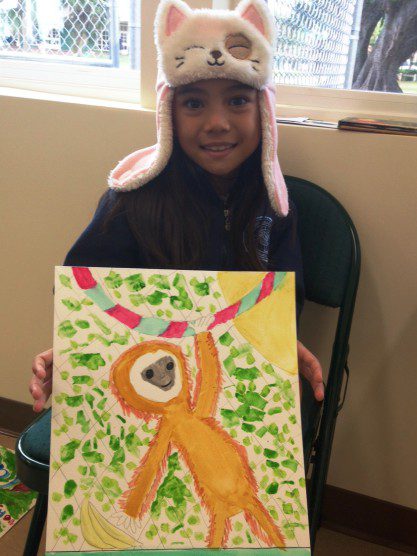 Would you like to learn how to draw a gibbon, yourself?
Check out this lesson (created by the late cartoonist Pauline Comanor) from the original "Chunky Monkey" Web site. You can practice drawing your own version of Arun Rangsi, IPPL's first rescued lab gibbon!
And if you want to get together to do a fun World Environment Day project with your friends, you can each draw different kinds of tropical creatures and put together a rainforest mural like this one. Can you spot the gibbons at the center top of the artwork?
Of course, at IPPL every year is the Year of the Gibbon! And every day should be World Environment Day.